Wijn & Spijs en Rondleidingen
Nieuwsgierig naar het wijnproces, een dagje uit, familiefeest of gewoon zin in een unieke ervaring in de wijngaard? Rondleidingen met degustatie zijn op afspraak.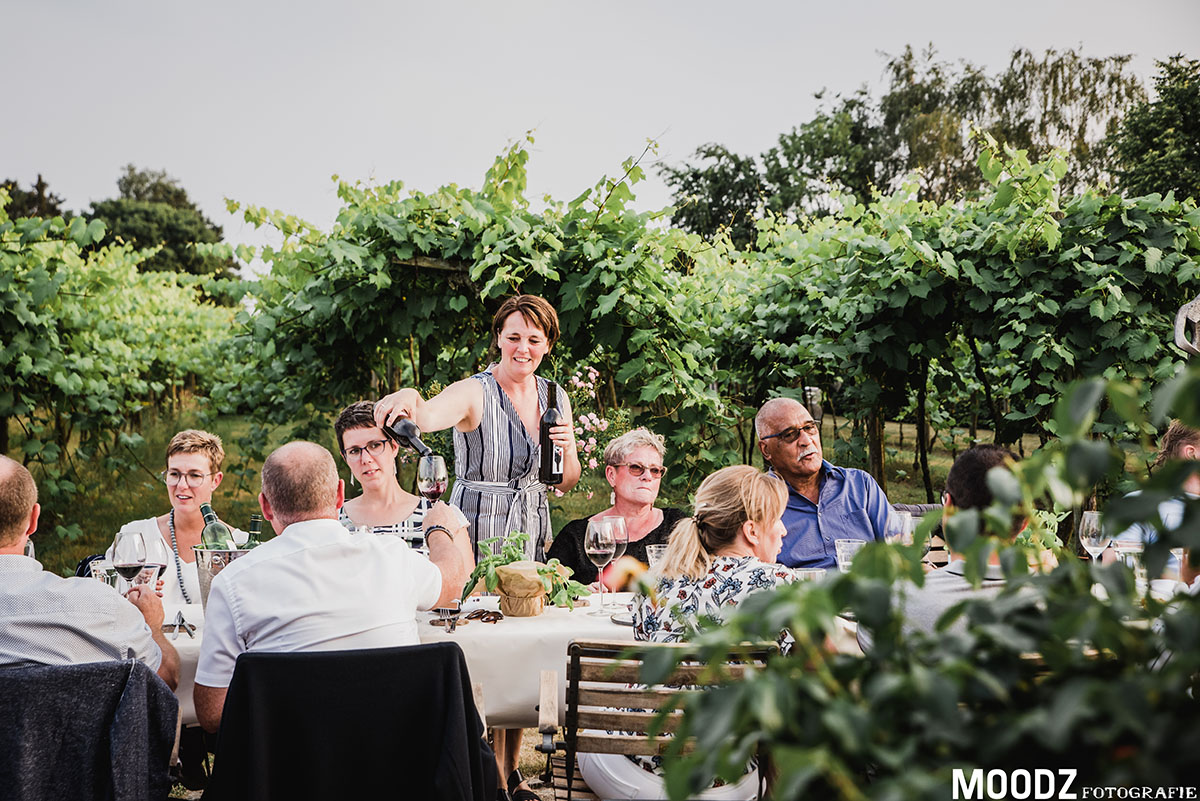 Belevings diners en workshops
Wij organiseren meerdere keren per jaar belevings diners en workshops op inschrijving, zie programma. Contacteer ons voor de mogelijkheden voor uw privé feest.
Wijn & Spijs en Rondleidingen
Op afspraak worden er rondleidingen gegeven aan groepen vanaf 15 personen.
Het meest interessant om de wijngaard te bezoeken is vanaf april t/m begin oktober.
De rondleiding duurt ± 1-1,5 uur waarbij u eerst uitleg krijgt in de wijngaard, vervolgens een stukje leert over het productieproces en een kijkje neemt in het laboratorium, wijnmakerij, wijnkelder en tenslotte natuurlijk gaat proeven van onze witte én rode wijn in het wijnhuis. Natuurlijk bieden wij u ook een heerlijk stukje Achelse blauwe kaas op rogge- of notenbrood aan! Kosten: Euro 15,00 pp. (minimaal 15 personen).
Komt u met minder dan 15 personen hanteren we een standaardtarief van Euro 225,00 voor de groep of voegen we eventueel groepen samen (informeer naar de mogelijkheden)
Een gezellig dagje uit? Combineer een rondleiding met wijngaardlunch een workshop of uitgebreide proeverij van Limburgse wijnen!
Belevings diners
Wilt u uw gasten eens echt een unieke ervaring geven en in de watten leggen? Op Wijndomein De Oude Hoeve is het mogelijk om een bijzonder private dinner-event mee te maken of voor uw gezelschap te organiseren. In samenwerking met enthousiaste en creatieve koks die vaak al jaren in het vak staan, organiseren wij een fantastische avond voor u: een private dinner tussen de wijnranken met live cooking in de wijngaard, Pizza a volonté in de Barn, een moord diner in het wijnhuis of een van de vele andere mogelijkheden op maat. Mogelijk vanaf 30- 120 personen.
Workshops
Op Wijndomein De Oude Hoeve is het mogelijk diverse workshops te volgen (zie foto's). Zoekt u een leuke activiteit om tijdens een familiedag te doen? Graag iets ondernemen met collega's of gewoon een leuke middag met vrienden en vriendinnen? Informeer eens naar de mogelijkheden en kijk in ons programma
Reacties van onze gasten
---
Jan & Angèle
"Hi Daniëlla, Het was een buitengewoon prachtige dag in alle opzichten. Dank nogmaals voor alle goede zorgen!
Het was helemaal zoals we in gedachten hadden. Stella zei later nog, wat een sprookjesachtige mooie locatie. En ook de aankleding hiervan was prachtig. Je hebt precies aangevoeld hoe we het wilden hebben voor Stella. Én hartelijk dank trouwens voor de prachtige foto's die je nog hebt gestuurd. Stella, maar ook wij, lopen nog steeds met ons hoofd in de wolken. Hele fijne avond nog en ook een hartelijke groet aan Robert."
Stella
Harry & Esther
"Wederom heel hartelijk dank voor de warme, gastvrije ontvangst op jullie domein voor ons inmiddels 4de feest bij jullie!! Ook dank voor de mooie foto's als aandenken. Wij en onze gasten hebben er enorm van genoten."